Click here if you are having trouble viewing this message.
The York University Brief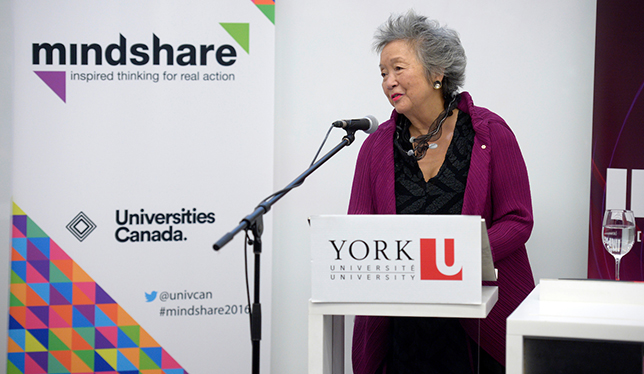 The Right Honourable Adrienne Clarkson speaks to Canada's strengths in refugee support & urges more action at York University Symposium
Canada has the desire, generosity of spirit and the geographical space to welcome even greater numbers of refugees, but more must be done to help them settle in the country, said the Rt. Hon. Adrienne Clarkson, former Governor General of Canada, during her keynote address at the Re-imagining Refuge Symposium at York University on October 17.
The bilingual symposium took place at the University's Glendon Campus and brought together more than 150 researchers, policy experts, public servants, academics, students, former refugees and representatives from non-governmental organizations, for a conversation designed to promote a sharing of knowledge and renewed thinking on the refugee experience.
Read More…
Four York U students receive Vanier Canada Graduate Scholarships

York PhD students Alison Humphrey, Zachary Lomo, Jesse Thistle and Syrus Marcus Ware have been named recipients of the Vanier Canada Graduate Scholarship, one of the most prestigious graduate scholarships in Canada.

Humphrey is collaborating with young performing artists to explore civic engagement through the concept of vaccination through her thesis. Lomo will investigate how the Office of the United Nations High Commissioner for Refugees (UNHCR) can be held accountable, at international law, for both environmental degradation resulting from refugee camps in Africa and the conditions of refugees in those camps.

 

Thistle's thesis focuses on Indigenous narrative, memory, and storytelling as a way to rediscover history and identity. Ware's work focuses on the disjuncture of progressive policy frameworks and funding structures for equity-seeking populations, and the ability to use those frameworks in a way that improves the life and work chances of those who need them most.

Read more…

York bee expert recognized for outstanding contributions to the study of insects in Canada.




York professor Amro Zayed received the 2016 C. Gordon Hewitt Award from the Entomological Society of Canada. The award honours outstanding contributions to entomology, or the study of insects, in Canada by an emerging researcher.

Zayed developed a world-leading research program that has provided insights on the fundamental relationships between genetics and bees' deviation from biological social structures. 

In 2015, he and his Australian colleagues developed a genetic test that can greatly reduce the risk of accidentally introducing Africanized honey bees to Canada. 

His lab also conducts research on honey bee health, including a large-scale study on the effect that neonicotinoid insecticides have on honey bees in Ontario and Quebec. 

Read more…
York U welcomes its first sponsored Syrian Refugee Family

York University's Project Connect refugee sponsorship team welcomed the University's first sponsored family through its Syria Response and Refugee Initiative (SRRI). The family was met at the airport by members of the Project Connect team.

Community members at York have organized to form 10 refugee sponsorship teams who will sponsor 41 refugees in total. Read more…

Researchers engage Toronto community in event on health promotion for mothers of children with developmental disabilities

A community event organized and facilitated by the Office of Women's Health Research Chair in Mental Health in the Faculty of Health at York University engaged a diverse audience on research findings from a recently completed project that examined social support for immigrant mothers of children with disabilities through institutions, programs and services.

The event encouraged community members from a wide variety of sectors to assemble and share experiences on health promotion for mothers of children with developmental disabilities. Read more…
---
Ijade Maxwell Rodrigues

Director, Government Relations and Chief of Staff
ijade@yorku.ca
Lindsay Presswell
Communications and Government Relations Assistant
lindsay@yorku.ca
York University, Office of the President
1050 Kaneff Tower, York University, 4700 Keele St. Toronto, Ontario, M3J 1P3
t. 
416.736.5200
 e. 
president@yorku.ca