Click here if you are having trouble viewing this message.
The York University Brief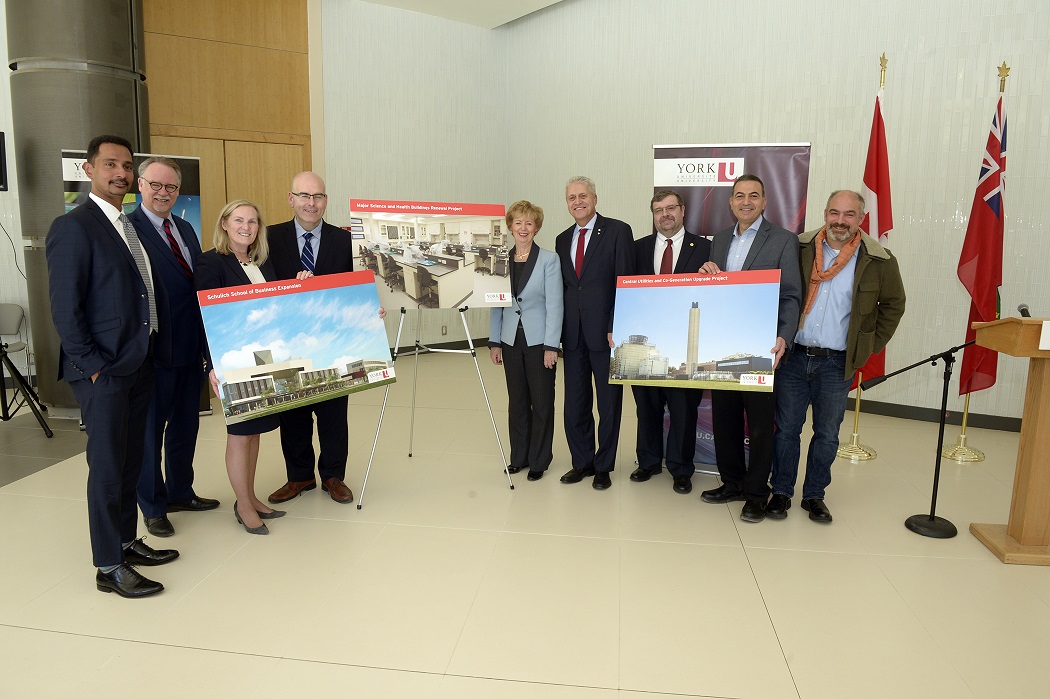 Federal and Provincial governments partner with York U to invest $113 million in research and learning.
An infusion of $47.4 million from the Governments of Canada and Ontario together with over $65 million in funding from York University will modernize labs in the Faculties of Science and Health, create a new building for the Schulich School of Business, and boost energy-efficient cooling and power for 85 buildings on York's Keele Campus.
On February 17 the Hon. Judy Sgro, MP Humber River-Black Creek announced that the federal government will provide York with $40.8 million through its Post-Secondary Institutions Strategic Investment Fund, and the Hon. Steven Del Duca, Minister of Transportation and MPP Vaughan announced that the province would contribute $6.6 million towards the projects. Read More…
New York U research exposes health care inequity of "invisible" uninsured.

A recent study, led by York University Professor Michaela Hynie in partnership York Professor Chris Ardern and Ms. Angela Robertson of the Queen West-Central Toronto Community Health Centre, tells the story of the uninsured in Ontario and, in doing so, illustrates the limitations of our system. This research also provides a vital look at the health status and health care of this "invisible" population.

Most Canadian residents are insured by provincial plans. Some residents, such as government-sponsored refugees or military personnel, have federal health insurance. Despite this, there are a number of Canadian residents who do not have health care coverage for a variety of reasons.

 

This policy-relevant study looked at visits to Ontario's emergency rooms (ERs) and determined that the health consequences of being uninsured, compared to the insured, are poorer care and worse health outcomes.

Read More…

Ontario's Lieutenant Governor makes official visit to York U to discuss diversity, innovation & sustainability.

Ontario's Lieutenant Governor The Hon. Elizabeth Dowdeswell made an official visit to York on Feb. 3 for a tour of the campus and to meet with students and researchers. The tour began with a presentation on the York-led Borderless Higher Education for Refugees (BHER) project and an interactive demonstration of LUXX, a locative media game developed by students in the School of Arts, Media, Performance and Design in collaboration with digital engineering students.

 

Other highlights included a stop at Osgoode Hall Law School seminar titled 

International Decade for People of African Descent: Access to Justice

; a tour of world-leading vision research facilities at the Sherman Health Science Research Centre; and finally, a roundtable discussion on the future of diversity, innovation and sustainability in Ontario with graduate and undergraduate students.

Read More…
Unique academic-industry partnership between York U and IBM to advance state-of-the-art disaster management systems.

IBM Canada has provided a $1.8-million in-kind gift to accelerate the Advanced Disaster, Emergency and Rapid Response Simulation (ADERSIM), a cloud-enabled platform housed at York University that enhances disaster and emergency planning through leading-edge modeling and simulation technology.

ADERSIM will use IBM's deep analytics capabilities coupled with York's big data and interdisciplinary research expertise to meet Canada's current and future demands in emergency management and public safety. York University is the first in Canada to offer bachelor's and master's degrees in emergency management, equipping students with the tools to manage, and in some cases mitigate, emergencies such as flooding, hurricanes, global warming and terrorism. Read more…

Cultural heritage project engages Indigenous voices.

York-led research project titled Mobilizing Inuit Cultural Heritage (MICH), funded by the Social Sciences and Humanities Research Council of Canada (SSHRC), is a unique collaboration aimed at recovering, preserving, documenting, facilitating and disseminating Inuit knowledge, culture and creativity. The project is directed by Professor Anna Hudson, at York's School of the Arts, Media, Performance and Design.

Storytelling, foundational to Inuit culture, is the unifying theme of this project, which runs from 2012 to 2018. The project has already facilitated the installation of a 26-tonne granite traditional Inuit sculpture at York Lions Stadium. Read More…

York U grad lands job at CGI through experiential education program YU Experience Hub.
While earning her degree in York's Human Resources Management Honours program, Denise Bang also pursued an internship with information technology consulting firm CGI through the 
YU Experience Hub
. The hub is home to the Internship and Co-op programs for students from the Faculties of Liberal Arts & Professional Studies and Science. Students in these specific undergraduate fields may secure positions that offer valuable experiential education.
As her internship progressed, Bang's supervisor told her that she was eligible to apply for a full-time position with the company. She successfully applied for a campus recruitment position and arranged her remaining coursework to fit her new work schedule. Today, she recruits university students to fill internship positions with CGI, a job that regularly brings her back to her alma mater.
Read more…
---
Ijade Maxwell Rodrigues

Director, Government Relations and Chief of Staff
ijade@yorku.ca
Lindsay Presswell
Communications and Government Relations Assistant
lindsay@yorku.ca
York University, Office of the President
1050 Kaneff Tower, York University, 4700 Keele St. Toronto, Ontario, M3J 1P3
t. 
416.736.5200
 e. 
president@yorku.ca