Click here if you are having trouble viewing this message.
The York University Brief


​Summer 2016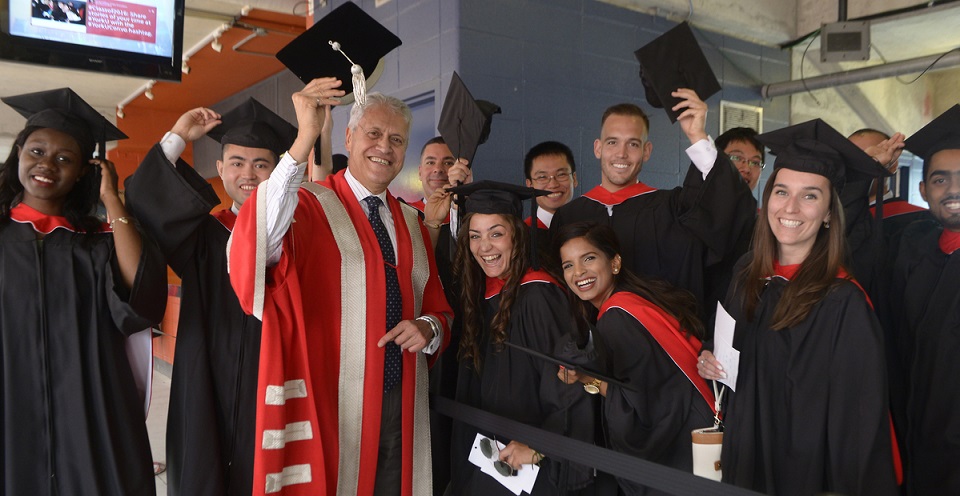 Introducing The York University Brief Newsletter
At York, we are curious and progressive by nature. These qualities fuel knowledge and discovery within our community and enable student success and groundbreaking research in a wide range of subject areas.
We take pride in our innovative faculty, researchers and students. This is why I am pleased to launch The York University Brief, which enables us to share stories about some of York's best and brightest with our valued partners, so that you are able to celebrate our successes with us.
If you are interested in connecting with me about the content of this monthly newsletter or about our University, please be in touch with Ijade Maxwell Rodrigues, my Chief of Staff and Director, Government Relations (ijade@yorku.ca). I would be delighted to personally brief you on York's strengths, aspirations and interests.
Mamdouh Shoukri
President and Vice-Chancellor
Ijade Maxwell Rodrigues appointed Chief of Staff and Director, Government Relations

York University welcomed the expansion of longtime Office of the President colleague Ijade Maxwell Rodrigues's role to include the Government Relations portfolio. The appointment occurred in March of 2016.

Ijade will play a key role in the development and implementation of the University's Government Relations Strategic Plan. The Plan aims to create an understanding of issues important to higher education among elected and non-elected officials at all levels of government and provide those officials with greater support and access to top researchers and senior administration at York.

Ijade holds a Master's degree in Public Administration from the University of Victoria and has served as the Chief of Staff in the Office of the President at York University for over 9 years.

York U unveils spectacular Inuit soccer player sculpture

Over the course of a year, a carefully crafted symbol of inclusion, diversity and Inuit art and culture emerged from thousands of pounds of stone as a monumental sculpture that now has a permanent home at the entrance of York Lions Stadium. Its name is Ahqahizu.

The sculpture of the Inuk soccer player was unveiled at York University on June 21, National Aboriginal Day in Canada.

Inuit artists Ruben Komangapik and Koomuatuk (Kuzy) Curley carved Ahqahizu out of a 26-tonne granite rock. The artists were commissioned to create the sculpture as part of Mobilizing Inuit Cultural Heritage (MICH), a multi-media, multi-platform collaborate research and creation project supported by the Social Sciences & Humanities Research Council of Canada (SSHRC).

Ahqahizu will serve as inspiration to athletes and spectators who attend the

 

North American Indigenous Games

 

at York University next summer and to countless visitors to campus for generations.

Read More…
York University and partners receive $15 million in federal funds to build community health technologies

York University and Southlake Regional Health Centre, in collaboration with the University Health Network (UHN), will work to develop new technologies to improve the health of Canadians using a $15 million investment from the Government of Canada.

This investment will be matched by $19.5 million from 32 partners that are developing three dozen new health-care technologies, resulting in a total budget of $34.5 million for the project.

The project will develop and commercialize apps and medical devices to support citizens and will create predictive health solutions to improve outcomes and reduce health care costs. Read More…

York University invention a breakthrough in rapid detection of E. coli

Tragedies like the E. coli outbreak in Ontario's Walkerton in May 2000 could be averted today with a new invention by researchers at York University that detects the deadly contaminant in drinking water early.

The new technology has cut down the time taken to detect E. coli from a few days to just a couple of hours. It is also an inexpensive way to test drinking water (an estimated C$3 per test), which is a boon for many developing countries, as much as it is for remote areas of Canada's north.

Read More…
Three York University graduate students receive prestigious Trudeau scholarship

York University graduate students Aytak Akbari-Dibavar, Gerard Kennedy and Jesse Thistle have been awarded the Trudeau Doctoral Scholarship, a prestigious distinction presented by the Pierre Elliot Trudeau Foundation.

With only 15 Trudeau scholarships awarded nationwide each year, the fact that York students received three signifies the University's strength in both the humanities and social sciences.

Akbari-Dibavar's research will investigate how political trauma in authoritarian states is transmitted through generations; Kennedy's proposed thesis investigates strategies for improving the fairness and efficiency of Canada's civil justice system; and Thistle's research focuses on Indigenous narrative, memory and storytelling as a way to rediscover history and identity.

Read more…

Dadaab refugee camp students graduate with York U certificate in Educational Studies




The second cohort of students from the Dadaab refugee camps in Kenya received a York University Certificate of Completion in Educational Studies during York University's Spring Convocation ceremonies.




York received $4.5 million in funding from the Department of Foreign Affairs, Trade and Development for the Borderless Higher Education for Refugees (BHER) project, which is a development partnership of York and Kenyatta and Moi universities in Kenya, the UN High Commissioner for Refugees (UNHCR), University of British Columbia and Windle Trust Kenya. The goal of the project is to deliver post-secondary education to refugees in order to improve the quality of teaching and education for children in the camps.

Read more…
Walk with Excellence brings local high school students to York University's Keele campus
On May 27, some 400 students who are graduating from C.W. Jefferys Collegiate Institute, Westview Centennial Secondary School, Downsview Secondary School and Emery Collegiate Institute participated in the fourth annual Walk with Excellence.
The event sees students from four high schools walk to York's Keele campus, and is considered to be an annual rite of passage for the students as they move from high school into postsecondary education, represents a public demonstration of their achievement.
Read More…
---
Ijade Maxwell Rodrigues

Director, Government Relations and Chief of Staff
ijade@yorku.ca
Lindsay Presswell
Communications and Government Relations Assistant
lindsay@yorku.ca
York University, Office of the President
1050 Kaneff Tower, York University, 4700 Keele St. Toronto, Ontario, M3J 1P3
t. 
416.736.5200
 e. 
president@yorku.ca