Click here if you are having trouble viewing this message.
The York University Brief
June 2017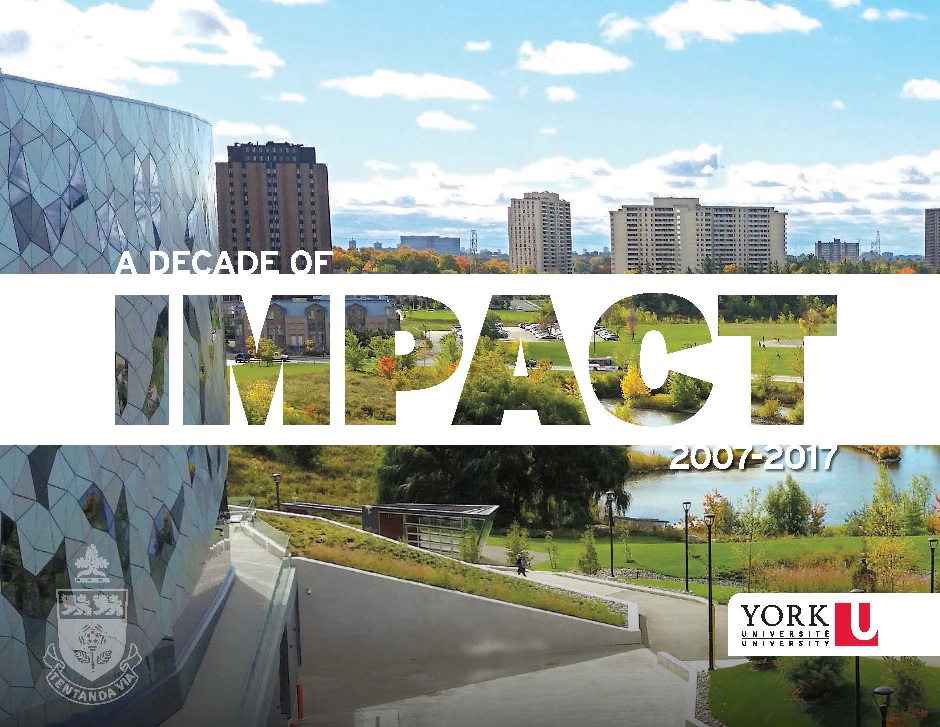 York University caps off "A Decade of Impact" with a surge in enrolment
York University releases A Decade of Impact, a new report highlighting achievements of the past ten years, all pointing to the recent success revealed in new Ontario University Application Centre (OUAC) enrolment data with York a leader among Ontario universities. The fall 2017 OUAC data shows a one per cent increase in enrolment of high school students from across the province, resulting from a demographic slump. Despite this near flat enrolment, York University experienced an impressive 10.6 per cent increase in domestic high school student acceptances and 10.8 per cent growth in international student acceptances.
York University's President and Vice-Chancellor Mamdouh Shoukri's term concludes June 30, after a decade of leadership. The report, which takes its name from this exemplary record of achievement, examines how the University's unique values and priorities have shaped and transformed the University since 2007.
Read more…
Read the full "Decade of Impact" report 
here.
New Canadians take citizenship oath during special ceremony at York U

Thirty-five new Canadians took the oath of citizenship during a special Citizenship Ceremony held at York University on May 30 as part of Canada's 150th national birthday celebrations.

York welcomed Immigration, Refugees & Citizenship Canada (IRCC) and the Institute for Canadian Citizenship (ICC) for the event. The Citizenship Ceremony was presided over by Justice Albert Wong, and featured guest speakers Helena Jaczek, provincial Minister of Community and Social Services and York alumna; as well as Mamdouh Shoukri, President and Vice-Chancellor of York University.

Congratulations were offered by President Shoukri, who noted the ceremony provides an important opportunity to reflect on our own citizenship and how we can work together to preserve and strengthen all that we love about this remarkable country for future generations.

Read more…

York University welcomes $127 million in Ontario government funding for new Markham Centre campus

York President and Vice-Chancellor Mamdouh Shoukri joined representatives from the Government of Ontario, the Regional Municipality of York, the City of Markham and Seneca College for the official announcement of a $127 million commitment by the Ontario government that will enable York University to open its Markham Centre campus in 2021. Within a few years of opening, the campus will meet the rapidly growing demand for access to leading-edge postsecondary education in York Region, with capacity for up to 4,000 students that is expected to grow to 10,000 in future phases.

36 Grade 8 students from Ashton Meadows Public School in Markham participated in a special "future graduate" convocation ceremony. The ceremony was symbolic as the students represent the age of the first cohort to study at the new campus when it opens in 2021.

Read more…
Summer abroad program launches at York U's Eco-Campus in Costa Rica

53 York University students will be spending time at York's Eco-Campus in May and June, located in the Costa Rican rainforest, for the Faculty of Environmental Studies' inaugural Semester Abroad program.

The program offers six intense senior-level courses on a variety of topics including food sovereignty, conservation, globalization, Indigenous Peoples, protected area management and more. The courses are designed so that students receive intensive, hands-on training during their time in Costa Rica. Students will also be housed in homestays with local farming families for a totally immersive experiential learning experience.

Read more…

York U research determines quality text messaging by nurses and doctors is linked to patient survival

 

A team of researchers from York University, University Health Network (UHN) and Trillium Health Partners studied text messages sent between nurses and physicians and patients to identify issues in failures to rescue. Looking at records from 2012 to 2014 at the Toronto General Hospital, the team found that message quality was positively linked to survival.

This new research, published this spring in the 

International Journal of Medical Informatics

, provides policy-makers and hospital administrators with much-needed evidence to directly affect patient outcomes.

Read more…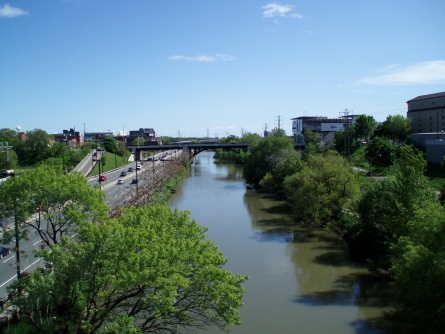 York professor proposes using artificial intelligence to predict aquatic ecosystem health
Lassonde School of Engineering Professor
 Usman Khan
's research on the measurement of aquatic ecosystem health has been published in the journal
Water.
In the paper, Khan proposes an approach based on artificial intelligence to predict dissolved oxygen in an urban river environment. Dissolved oxygen concentration in a water body is the most fundamental indicator of overall aquatic ecosystem health. Having a sophisticated measuring system to assess the health of these precious reserves is essential.
The approach ultimately creates a risk analysis tool that municipalities can use to identify the risk of low dissolved oxygen under different circumstances. This will allow cities to better monitor and anticipate the health of their rivers.
Read more…
---
Ijade Maxwell Rodrigues

Director, Government Relations and Chief of Staff
ijade@yorku.ca
Lindsay Presswell
Communications and Government Relations Assistant
lindsay@yorku.ca
York University, Office of the President
1050 Kaneff Tower, York University, 4700 Keele St. Toronto, Ontario, M3J 1P3
t. 
416.736.5200
 e. 
president@yorku.ca