Click here if you are having trouble viewing this message.
The York University Brief
May 2018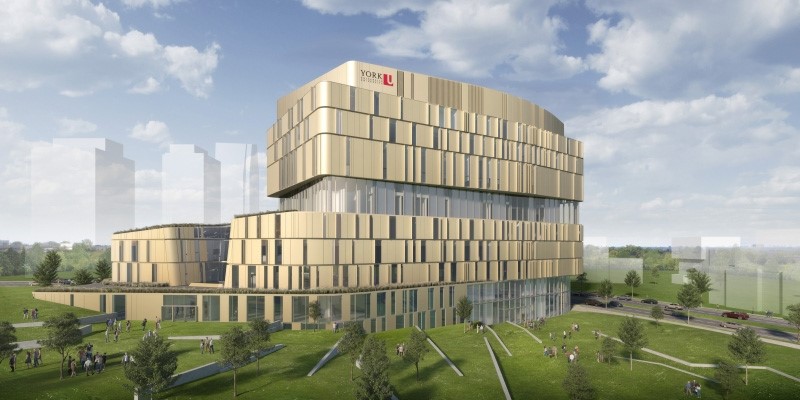 New Markham Centre Campus receives $25M investment from York Regional Council


On Thursday, May 17, York University welcomed York Regional Council's authorization of a $25-million contribution toward the new Markham Centre Campus. The University has approved the $253-million design and build budget, with construction set to begin this fall. The new campus will include a collaboration with Seneca College, and is expected to open in fall 2021.
Located in Markham near the corner of Enterprise Boulevard and Rivis Road and the Markham Pan Am Centre, the Markham Centre Campus is already serviced by 15 transit routes and is anticipated to accommodate up to 10,000 students in future phases.
Read more…
Bags better than bins for recycling, study finds



For years, municipalities have been trying to find the most effective method of recycling.



According to a York University study, bag-based recycling is the most effective system to manage contamination rates and the least expensive to implement.

Municipal recycling systems are typically box or cart-based, although more and more municipalities have begun to shift to bag-based programs, which use recycling bags as their primary means of collection.

The York study found that contamination rates are approximately 8 per cent lower in bag, or a combination of bag and box-based, systems − compared to cart or box-based systems. Read more…

Mathematics research offers new ways to control West Nile transmission

The West Nile virus is the most widely distributed virus in the world and it is transmitted by mosquitoes. Exactly how it spreads is complex because it is influenced by factors including weather conditions and urban environmental settings such as storm water management ponds.

Professor Huaiping Zhu, professor of mathematics and director of the Laboratory of Mathematical Parallel Systems at York University and soon to be the Tier 1 York Research Chair in Applied Mathematics, looked at the impact of these two factors on the transmission of West Nile virus.

Using mathematical modelling, Zhu led a study in conjunction with Peel Public Health and the Toronto and Region Conservation Authority (TRCA). The study, funded by the Canadian Institutes of Health Research (CIHR) and the Natural Sciences and Engineering Research Council of Canada (NSERC), discovered some ways to reduce the spread of the virus. Read more…
Particle physicist Deborah Harris appointed by Fermilab and York U to lead DUNE

The search for answers to complex questions about the origins of the universe received a huge boost April 25 with the announcement of the joint appointment of leading researcher and particle physicist Deborah Harris to lead York University's participation in the Fermilab-hosted Deep Underground Neutrino Experiment (DUNE). The news heralded the official start of the partnership announced last October between York University's Faculty of Science and Fermilab, an American-based particle physics laboratory.

To help celebrate the announcement, the Governor General of Canada, Julie Payette, an engineer and former astronaut, joined officials from Fermilab and Ray Jayawardhana, dean of the Faculty of Science at York University, for the announcement and a tour, which took place at the U.S. Department of Energy's Fermi National Accelerator Laboratory in Batavia, Illinois. Read more…

York U study finds minority children develop implicit racial bias in early childhood

 

New research from York University suggests that minority children as young as six years old show an implicit pro-white racial bias when exposed to images of both white and black children. But how ingrained these biases become, and whether they persist into late childhood and adulthood, might depend on their social environment.

Faculty of Health Professor Jennifer Steele conducted two studies with graduate student Meghan George and PhD student Amanda Williams. They were interested in looking at implicit racial bias in traditionally understudied populations. The goal of the research was to gain a better understanding of children's automatic racial attitudes.

 

In both studies children were asked to complete a child-friendly Implicit Association Test (IAT), which measures automatic associations that children may have toward different races. In this computer task, children were asked to pair pictures of people with positive or negative images as quickly as possible.

Read more…
Kellogg-Schulich Executive MBA program ranked sixth in the world

The Kellogg-Schulich Executive MBA program at York University's Schulich School of Business was ranked sixth in the world in the category of Joint Programs in the recently released QS Global EMBA Rankings.

The Kellogg-Schulich Executive MBA program received an overall score of 95.5 per cent, placing closely behind the No. 1 ranked joint EMBA-Global Asia program offered by Columbia Business School, the University of Hong Kong Business School and London Business School; as well as the TRIUM Global EMBA program offered by the Stern School of Business, London School of Economics and HEC Paris; and the EMBA-Global Americas and Europe program offered by Columbia Business School and London Business School.

In conducting the ranking, QS evaluated more than 150 schools from over 30 countries.

Read more...

Landmark project brings to light crimes against humanity in African war zones



For seven years, Faculty of Liberal Arts & Professional Studies Professor Annie Bunting has been working on a ground-breaking project, "Conjugal Slavery in War (CSiW): Partnerships for the study of enslavement, marriage and masculinities." This venture seeks to document cases of forced marriage in conflict situations in Africa, to place this data in historical context and to impact the international prosecution of crimes against humanity as well as local reparations programs for survivors of violence.



Pressing themes have now emerged from this work, as well as gaps in knowledge, such as men's experiences of being ordered to be violent and children's experiences of being stigmatized for being born as the result of sexual violence.

 
Since

monitoring the prosecution of gender violence at the International Criminal Tribunal for Rwanda, the partners have been working in Sierra Leone, Uganda and DRC to track the developments of international criminal law, national laws and local reparations programs. Bunting and her colleagues submitted a brief on forced marriage as a crime against humanity to the Extraordinary Chambers in the Courts of Cambodia in 2016.

Read more…
Osgoode-led project on access to justice could reorient policy discussions

 

Seven years ago, the Canadian Forum on Civil Justice (CFCJ), a research organization at Osgoode Hall Law School, was awarded a Social Sciences and Humanities Research Council (SSHRC) grant for a multi-year study on the economic and social costs of Canada's justice system, titled the "Cost of Justice: Weighing the Fair and Effective Resolution to Legal Problems."

 

Osgoode Professor Trevor Farrow is the Principal Investigator for the project and the lead author on one of the project's leading reports, Everyday Legal Problems and the Cost of Justice in Canada: Overview Report (2016). Based on a survey of over 3,000 Canadians, this report highlights the extent of the problem and the fact that legal problems, health problems and social issues are linked. It also raises some important equity issues.

 

The project's approach and the focus on users of the justice system have provided useful and unique insights into the state of civil justice in Canada today.

Read more…

Peel to establish smart freight centre to facilitate movement of billions of goods
With an estimated $1.8 billion worth of goods travelling through Peel every day, the region has agreed to collaborate with York University and two other universities to find a way to move products faster and more efficiently.

Peel Regional council recently approved $240,000 in funding for 12 months of startup costs to establish a Smart Freight Centre with York University, McMaster University, and the University of Toronto.

The centre will be established in two stages. The startup stage, which runs for five years, involves the region, York, McMaster, and U of T. In the second stage, the region will reduce its funding with more senior levels of governments to own the centre.

The goal for the centre is to evolve into a formal network between governments, academics, and industry that work on goods movement issues of regional significance. These will include issues that affect more than one municipality, cannot be addressed in isolation, and require long-term solutions.

Read more…