Click here if you are having trouble viewing this message.
The York University Brief
January 2019

Schulich's Rob and Cheryl McEwen Graduate Study & Research Building opens with focus on the future and innovation

On January 10, York University and the Schulich School of Business celebrated the opening of the new Cheryl McEwen Graduate Study & Research Building, which is designed to bring industry into the classroom and to stimulate interdisciplinary research in fields ranging from business ethics and big data to global enterprise and real estate and infrastructure.
Minister David Lametti spoke to the importance of investing in research at the opening of the building, which will accommodate modern research facilities, academic program growth and space for study and socializing. Its distinctive design, by Baird Sampson Neuert Architects, makes it one of the most environmentally sustainable and socially responsible academic buildings in North America.

The $50-million project received $15 million in funding from the Government of Canada through the Post-Secondary Institutions Strategic Investment Fund, which is dedicated to modernizing research and commercialization facilities, improving their environmental sustainability and promoting economic activity. The project was also supported with $35 million from Schulich's Leading Change fundraising campaign, including the McEwen donation.
Read more…
Lassonde researchers develop portable cannabis detection device for roadside screening

Assistant Professor Nima Tabatabei from the Lassonde School of Engineering, and the team of researchers at the Hybrid Biomedical Optics (HBO) Laboratory, have developed and tested a patent-pending technology for fast, on-site detection and quantification of tetrahydrocannabinol (THC) – the psychoactive substance of cannabis – in saliva. The technology uses thermal signatures of gold nanoparticles attached to THC molecules.

The advancement in THC detection technology comes at an opportune time. The recent legalization of recreational cannabis in Canada has created a pressing need for rapid and sensitive roadside screening to mitigate driving under the influence.

Using current technologies, detecting THC at legally required limits is time consuming and invasive, as it requires analysis of blood samples in certified laboratories. Tabatabaei's technology, on the other hand, aims to provide immediate, on-site results to better detect driving under the influence and keep roads safer. Read more…

Astronaut to conduct experiment designed by York University while in space


Canadian Space Agency astronaut David Saint-Jacques launched to the International Space Station (ISS) in December, and soon after his arrival, important research designed by a York University team led by Professor Laurence Harris began. This effort could one day help research in the areas of Parkinson's disease, stroke recovery, damaged organs, aging and remote robots used for surgery.

Harris is leading a virtual reality experiment, some equipment for which recently travelled to the ISS on NASA's Northrop Grumman's commercial resupply mission. While Harris and his team will remain on earth, his research will investigate the effects of microgravity on
astronauts' perception of their motion. Saint-Jacques will be the first crew member to take part in the experiment.


The experiment is a collaboration with the Canadian Space Agency. It is aptly named VECTION, which is the feeling that you are in motion caused by seeing the visual scene moving, even while you are immobile. Read more…


Child and youth traffic injuries study suggests need for standardized traffic policies in Canada

 

Provinces with evidence-based road traffic safety policies had lower injury-related hospitalizations and deaths among children and youth, according to a new study by researchers at York University.


The national study, published in the journal BioMedCentral, looked at three indicators: injury-hospitalization, injury-death and the road traffic safety policies. This is the first Canadian study to compare data on hospitalizations and deaths alongside provincial policies.

Professor

Alison Macpherson

in York University's School of Kinesiology & Health Science, Faculty of Health, and her former PhD student Liraz Fridman examined policies related to the safety of vehicle occupants, cyclists and pedestrians, and focused in on specific criteria such as graduated driver licensing, bicycle helmet legislation, pedestrian safety laws and booster seat legislation.

She said the study provides evidence to support the need for booster seat legislation and other road safety policies to be consistent across provinces. Read more…

New online portal details how climate change will impact Ontario

York University's Laboratory of Mathematical Parallel Systems (LAMPS) is exploring how climate change will affect Ontario in a new online portal containing hundreds of thousands of data points, maps, graphs and predictions.

The Ontario Climate Data Portal (OCDP), led by Huaiping Zhu, a professor of mathematics and statistics and director of LAMPS in the Faculty of Science, based calculations on the greenhouse gas concentration trajectories adopted by the Intergovernmental Panel on Climate Change (IPCC).

The portal – which was referenced in the Ontario government's "Preserving and Protecting our Environment for Future Generations: A Made-In-Ontario Environment Plan" – includes more than 10 terabytes of data that researchers can use to do their own analyses. It is also available to the public.

Some of what the OCDP's researchers found is hotter, wetter days with fewer days when the temperature dips below freezing. LAMPS has additional data available on what those rising temperatures and more precipitation could mean for breeding mosquitoes and consequent increases in West Nile virus and other mosquito-borne diseases such as Zika. Read more…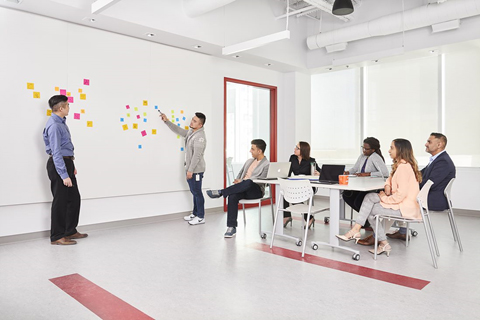 Reflecting on YSpace Markham's first year


Strengthening the relationship with York Region has always been a priority for York University. Although there are many exciting initiatives underway, one new success story remains at the forefront:
YSpace
. The 10,000-square-foot facility in Markham, Ontario is a community innovation hub supporting a growing number of entrepreneurs and innovators by providing dynamic co-working space, access to industry advisers, education, workshops and high-end technology.


Part of Innovation York's entrepreneurship portfolio, YSpace opened its doors in January 2018. Since then, demand from entrepreneurs, organizations and startups has been high. In less than a year, YSpace has experienced significant growth in all activity areas and, as a result, has doubled the size of its incubator. The innovation hub is currently home to 22 startup ventures and 11 entrepreneurs in residence (EiRs) and has held over 110 events for the community.


YSpace members have exclusive access to perks and programming that will help propel their ventures to the next level through access to EiRs, industry and funding professionals; discounts to law and prototyping firms; ongoing mentoring and support by the YSpace team; and access to programming that is designed to help push the ventures from one stage of their life cycle to the next and grow their businesses.
Read more…